Limited Opening Tuesdays 9AM-6PM, Saturdays 9AM-12PM for browsing and computer use
The safety and well-being of patrons and staff remains our top priority. Your continued patience and understanding as we work through the ever-changing landscape is appreciated.
IMPORTANT NOTICE Per library policy, the following guidelines are in place to enter the library:
– masks required for all persons over the age of two
– hands must be sanitized upon entry
– social distancing of 6 feet must be maintained/practice
*If you cannot meet these requirements for any reason we would love to assist you with Curbside services but we cannot allow entry into the building. We thank you for your understanding and look forward to serving you!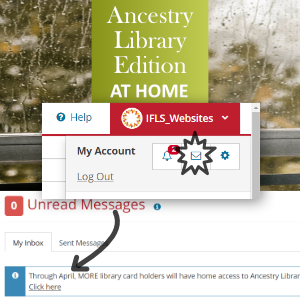 Log In from more.lib.wi.us
Select the red box in the upper-right with your username
From your account menu, use the envelope icon to open your messages
Ancestry access info is at the top of your inbox
Click here for a link to an informative guide to using Ancestry and Heritage Quest.
Use the Digital Library
Included with your library card…